Who hasn't seen them anywhere before? Their appearance simply attracts everyone's attention. Always dressed identically in bright, ladylike costumes, heavily made-up and with shaved heads, they usually only advance a few metres during their visits to the art fairs and events all over the world. All the time someone asks them for a photo. Since nearly 30 years you almost never hear them say "no". EVA & ADELE pose and smile – and that all the time. The smile is an essential component of their performance FUTURING, which dissolves any border between public and private. Only a few people know that this performance is accompanied by an impressive collection of paintings, drawings, photographs, sculptures, films and costumes and is represented in well-known museums and collections all over the world. The exhibition L'AMOUR DU RISQUE at me Collectors Room Berlin deals retrospectively with their complete work. An opportunity for me to meet them there…
The exhibition begins with the constantly running video work 'Kisses in the Supermarket' from 1997, which is directed towards the street and which regularly challenges groups of curious people to linger. In the foyer the exhibition immediately continues with the work 'Polaroid Diary'. Its 1,500 selfies forms a kind of picture frieze with an even grid.
The souvenir shop on the opposite site can also be interpreted as an artwork. EVA & ADELE created accessories especially for the exhibition, which are now arranged with loving attention to decorate the display. The composition of completely pink articles has something playfully girlish about it. The exhibition is then brought to life by the artist duo themself, who are now walking towards me with a friendly smile in pink floral dresses.
Image 1: Polaroid Diary, 1991–2005, Image 2: Souvenir-Shop
The couple, who have been partners of the same sex since 2011, decided in 1989 – as a proof of their love – to conceal their own identity in the future and to abandon the artistic work they had previously created. As a new concept of gender, they created the "radical communal existence". Since then, they have not done anything alone and are always dressed identically. The beginnings were hard, as Eva now tells me when looking at the self-portraits. "These are reproductions of our Polaroids that were made between 1991 and 2005 – way before today's mobile phone selfies. We used this medium for self-assurance before we left the house. This way we could bear the bullying that was waiting for us on the street."
"At this time – we are talking about the early 1990s – many people still had the classical Christian tale of suffering as evidence of the new concept of gender. The drama was expected, but not a cheerfully colourful performance," Adele explains the behaviour at the time. "To our adversaries, smiles became our weapon, within our art they became part of our branding." Thus, anything but a superficial masquerade, as one might mistakenly assume.
We'll go to the showroom together.
Partial view in the showroom
The high white walls and the dark wood of the floor form the perfect setting for the work presented here. Large-format paintings, a pink sculpture consisting of a table and small suitcases piled up on it, as well as another pink sculpture consisting of a bed and a corsetry installation on the walls, set themselves in a contrasting scene. The group of works Transformer-Performer impressively conveys the central idea of EVA & ADELE. "The paintings were made from drawings by Eva, which were kept in boxes in the basement. Since we had decided to give up our own works, the works of our past were simply stowed away for the time being. As well as these drawings. At some point, I had the idea of putting some of these works together like collages and overlaying them with new oil paintings. We gradually worked on it, with long interruptions in between," explains Adele. As different as all paintings are, there is one element that connects this group of works. It is always the same double portrait of the artists that sometimes reveals itself more, sometimes less dominant. I ask for the meaning behind it. "The double portrait is to be seen as a seal for the fact that our performative work stands above traditional drawing. In painting in particular, authorship – the recognisability of one's own handwriting – is important. We have abandoned individual authorship in favour of community existence. That's why we see these works as something new within painting," explains Eva.
Image 1: Biographische Skulptur No 1, 1997, Image 2: Eva und Adele vor Biographische Skulptur No 26, 2018, Image 3: Transformer-Performer, STANLEY, 2006, Transformer-Performer HELIKON, 2010
With a closer look at the suitcase sculpture we now turn to the group of works called Biographical Sculptures. Just the term alone makes you pause. As many people know the biographies of the two artists are incomplete. But that's precisely what it's all about. Because all these sculptures are objects of personal use, references to events in their undocumented past are hereby permitted. For example, the use of suitcases, as Eva now tells me: "We haven't spoken about our art for a long time. We were worried about wasting our idea too quickly. Looking back, this was a good decision because we had so many years to build up our work. But at some point it was time for us to break the silence. We put our work in these suitcases and set off to see curators."
"And did that work? Usually it's not the ideal way for artists to try to market themselves," I ask in surprise. "It worked fine for us. We were fortunate to meet courageous personalities such as Ulrich Krempel, then director of the Sprengel Museum in Hanover, or the legendary curator Harald Szeemann, who immediately supported us," answers Adele.
Image 1: Biographische Skulptur No 13, 2005, Image 2: Biographische Skulptur No 22, 2018
But they did not only seek contact with personalities of the art scene from then on. A huge postcard campaign followed. Before each visit to the exhibition, self-portraits were reproduced as postcards and stamped on the back with logos created for this purpose. Anyone who was allowed to take a photo of them was given a postcard asking them to send a copy of the photo. The card was therefore both a business card and a artistic unicum. A total of 40,000 copies were issued, which ultimately formed a separate group of works geared to interaction. This action is illustrated by the 12-part work Golden Manifesto. These stamp logos with the central messages of their life performance FUTURING are painted with red oil color on gold-plated wooden panels. For example: WHERE EVER WE ARE IS MUSEUM, COMING OUT OF THE FUTURE or WORLD COMMUNICATIVE GLOBAL PLASTIC.
"It was important for us to manifest our message in an elevated form. The gold ground on wood, which was mainly used in sacral art in the Middle Ages, was therefore the perfect painting ground for us. Both as a symbol of the meaning of our message as well as a symbol of our perpetual reference to art history."
Goldenes Manifest, 1992–1997
"This can also be found in our work group Mediaplastic", Adele introduces the background to the next works. As with the postcard campaign, the first priority is to spread your image. However, in this case her press photos trigger further stages in her work, creating a wide variety of paintings and drawings. Once again, it is the large formats, which first catch the viewer's eye in this exhibition space. The respective pictorial creations, ranging from apparently one to one transferred photo prints to strongly abstracted variations, also make the duo's painterly abilities clear. "Could you imagine working digitally, too?", I ask.
They both dismiss this almost energetically. "No. This simply has to do with the fact that we need the retreat to the studio's loneliness in order to be able to quietly reflect and process what we experienced. Painting requires a high degree of concentration and is therefore the ideal medium for us to professionalize the 'coming from the inside-artwork' as the core of our work," is the answer that the art of EVA & ADELE reveals as a mirror of their own lives.
Installation view, Image t.r.: Image 2: MEDIAPLASTIC No 7 IL GIORNALE DELL'ARTE, 1991 / MEDIAPLASTIC No 6 Gallery, 1994
Accordingly, her self-designed costumes, which recall her legendary performances at important art events such as the documenta IX or the Venice Biennale, are also included.
The real-time videos presented in another section of the exhibition, in which the couple performs monotonous, almost robot-like actions such as waving or splashing water for 43 minutes – without cutting (!) – again document the enormous discipline that the life model they have chosen has always required and will continue to require in the future. "The fact that over the past almost thirty years we have visibly contributed with our art to enforce tolerance towards new definitions of gender roles makes it easy for us to maintain discipline," is Adele's comment on this, which Eva confirms with a happy smile.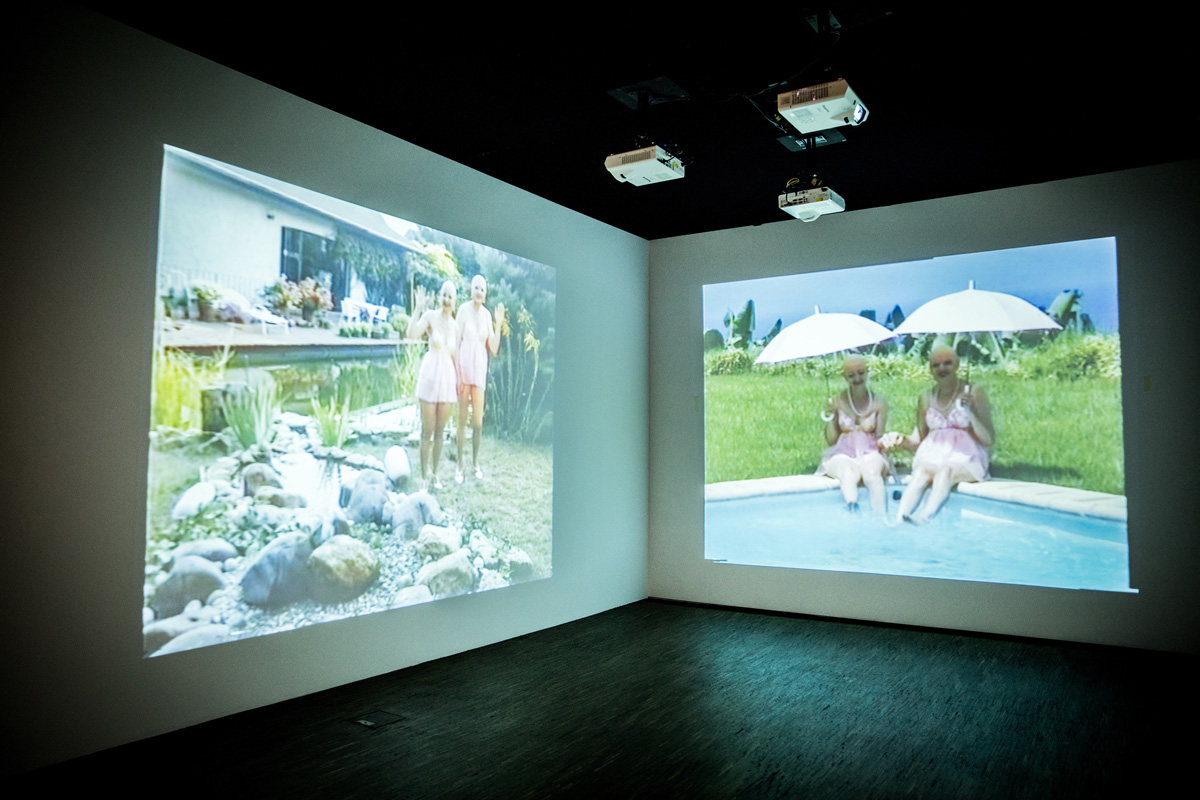 Filmstills, left: Watermusic I, 1997/2003, right: Watermusic II, 1997/2003
And that is exactly what makes their art so authentic, and today I was able to get to know in personified form as well as in so many different media of art: The lived 'coming from the inside-total artwork' that has found its way from the future into the present.