Text: Dr. Elke Backes, Studio photos: Natascha Romboy
Whoever sees the designs of the Austrian fashion designer Flora Miranda, set in her very special staging, is immediately transported into the dream worlds created by her. The wearers appear to transform into moving sculptures; into artificial beings in an artificially created world. There is something foreign and yet familiar that captivates the viewer as if by magic.
Is this effect perhaps caused by the generative design used by Flora Miranda?
Impressions of the Haute-Couture dream worlds by Flora Miranda.
Credits from top left to bottom right: 1. Photographer: Athos Burez, Model: Gala Moody, Makeup: Laura Noben, 2. Photographer: Athos Burez, Model: Gala Moody, Makeup: Laura Noben, 3. Photographer: Ronald Stoops, Model: Gala Moody, 4. Photographer: Chris Philippo, Model: Marthe Woertman, Stylist: Marja Bennebroek, Makeup: Michael Salmen.
For those wondering about the meaning of the term generative Design: It describes a design method that we are particularly familiar with  in the context of architecture, communication design, product design and art, often finding its place within film scenes. And who isn't familiar with such a scene? Camera zoom onto a computer, a quick pan to the all-knowing IT nerd, frantic keyboard typing, futuristic sound and – bam – there it is! The simulation solely based on data input, emerges like magic, into a 3D animation on the screen, visualizing the idea previously formulated only through target specifications.
And should fashion now be created in such a sterile and mathematical manner? Very curiously I am on my way to Antwerp, to meet Flora Miranda.
I first became aware of her in the context of my art dialogue about the choreographer Richard Siegal (June 2022). Flora Miranda had designed the costumes for Xerrox Vol. 2., performed by his Ballet of Difference at Schauspiel Köln. The designs she created from flowing, delicate fabrics, in perfect harmony with the minimalist stage design, along with futuristic sound and lighting, accentuated every movement of the dancers and seemingly expanded the space. They were so sensual … it seems impossible to me that these could have been created by algorithms.
Scenes from Xerrox Vol. 2, Ballet of Difference at Schauspiel Köln, choreographed by Richard Siegal (2022) © Thomas Schermer.
Flora's studio is in a beautiful older building in a quiet residential neighbourhood. A first glance tells you that here works a craftsman in the traditional manner. I see sketches, swatches, dresses on mannequins, a drawing table and a sewing machine and am relieved. Besides a laptop, an iPad and a plotter, there are no technical tools in sight. The generative design must take place somewhere else.
We move on into the lounge, where one of her gorgeous designs leans against the wall in a frame, like an artwork. Immediately I see a scene from a science fiction movie, the dress worn by an empress of an alien galaxy. Just futuristic!
Flora tells the exciting story relating to the creation of the "Warp Coat" (right) of her final presentation.
While I am still looking in amazement at the details, I am even more amazed when Flora tells me that this dress comes from her final presentation on fashion at the fashion academy in Antwerp. An opportunity to talk to her about her evidently early enthusiasm for that futuristic aesthetic.
E.B.: What was it that you found particularly fascinating about this topic?
Flora: Well, I could probably explain it going back to the story of this design: I hate waiting. It is simply terrible for me having to wait for the bus or something. While I was mulling over the topic for my final presentation, I happened to think about the question which development I would like to take place most in my lifetime. Simultaneously, I came across a book by Anton Zeilinger, Nobel Prize winner of physics, regarding his experiments in quantum physics [his nickname is Mr. Beam]. The book provided me with the answer: I wished that we could transport ourselves in the same way we send emails. To never again wait, that would be awesome! Next I wondered, what a body would have to look like that could be read via its parameters by a scan; I imagined how a body would dissolve into laser cuts and asked myself, what would happen, if only a hand arrived and other entities would get stuck in the process somewhere. The coat is made from leather and therefore provides an organic contrast to the digital aesthetic.
E.B.: What a story! So, it was initially your involvement with technology that was particularly interesting to you?
Flora: Digitalisation, particularly the rapid development of artificial intelligence, initiates radical social and aesthetic changes. In may field, particularly those of design and art, those changes were already visible at that time. But – not yet in fashion. There, I saw a niche. With my decision to study fashion design, I wanted to challenge the outdated idea of the design tradition and reflect the Zeitgeist. Initially, just through concept and content, but then very quickly also exploring new techniques.
Shoes reflecting the Zeitgeist of digitalisation using 3D simulation.
E.B.: Are you influenced in this regard by your family?
Flora: No, quite the opposite. I come from an entirely artistic family. My father, aunt, uncle, they are all painters. In addition, my father is also a composer and musician. For me there was no other world but that of the arts. Even when I was in kindergarten, there was a celebration in my father's studio, where all the children had wrapped themselves in canvases; I attended many exhibitions, helped set them up, and hammered canvas frames… boundless creative freedom. The opposite of science and programming, so to speak. However, what was technical in relation to my father's music was the modification of instruments to create new sounds. The fact that I didn't ultimately study painting as planned was probably my little act of rebellion [laughs].
Detail views of a velvet curtain for an exhibition on the subject of "Gender", digitally painted by Flora.
E.B.: But you continue to draw. Or is the entire design process digital by now?
Flora: Yes, I still draw and am very efficient at it. It is a fabulous tool, faster and easier than language. The drawing feeds the digital, and vice versa.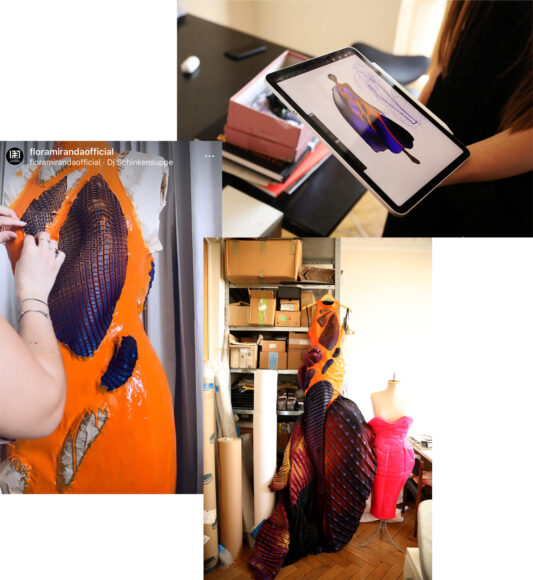 Stages of the original drawing up to the final design of New Phaser Couture Pieces.
E.B.: Feeding is the correct cue. So, you create – also parallel to digital and – as I saw, via sound – the foundation for the idea of a pattern, a texture or a form. And that is where the software then comes in, which converts this information into a computer language and ultimately, generated via AI, visualises your idea. Do you do or – rather – can you do this all by yourself?
Flora explains the development of a generatively designed print (in collaboration with Dan Tapper), using pictures in her catalogue I am Digital, bottom right: her latest design.
Flora: I do some of the programming myself. I must admit, programming is unfortunately not my strongest point. But it was essential that I learn the most important skills to understand the basis of this language. To me, technology, craftsmanship and art are interdependent. It's always fascinating to see how different personalities come together when collaborating with IT specialists. They are the better technicians, while I'm the one who focuses more at the aesthetic aspects, creates the artistic content and ultimately makes the connection to the physical implementation. The intriguing thing about fashion is that it's designed for a body that moves and is always changing. Every texture, fabric, detail, the construction, and the composition of the whole play a role, evolving through movement and telling its own story. It's this complexity that interests me so much.
Examples of Flora's storytelling and the taking of movement of her designs into consideration
Credits from top left to bottom right: 1. Photographer: Shari Ruzzi, Model: Gala Moody, Makeup: Mona Salons, 2. Photographer: Laura Feiereisen, Model: Gala Moody and 3. Collaboration with the creative Coder Dan Tapper, Dancer: Benedetta Musso of Ballet of Difference by Richard Siegal, Video by Michael Maurissen, 4. Photographer: Domen Van de Velde, Model: Eveline Rozing, Makeup: Magdalena Loza.
E.B.: Your shows and the respective settings of your stagings are also complex, as well as those of your interdisciplinary cooperations. You work together with visual artists like Esther Stocker or Signe Pierce, choreographers like Richard Siegal and Arco Renz or the actress Caroline Peters. You are currently preparing an exhibition for MAK Vienna, where you will present your work under the title (CON)TEMPORARY FASHION SHOWCASE 2023 in the historical ambience of the Geymüllerschlössel. Regardless of who or where you integrate your designs, hyper-realistic images almost develop. Your approach is extremely artistic.
Final question: How challenging is it for you to still think applied in the context of the respective task?
Examples of collaborations from top left to bottom right: Esther Stocker, Caroline Peters, Richard Siegal, Signe Pierce.
Flora: What's crucial for me is that I'm allowed to think everything through. Otherwise, I feel like I've missed out. I always want to understand why I'm doing something and keep experimenting; I want to continue being extreme to break through the traditional, practical considerations in fashion, and get closer to the true expression of the self and the individually multidimensionally developed personality.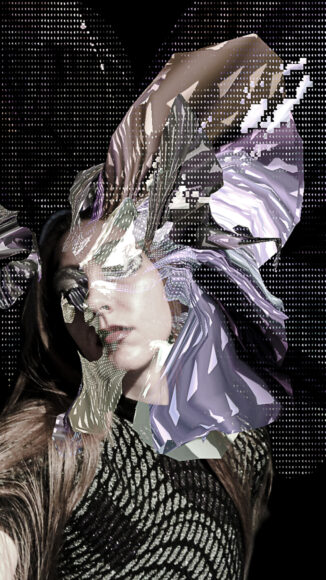 Mixed-Media-Portrait by Flora Miranda.