Today we're staying in Mönchengladbach. I'm being visited by the photo artist Carsten Sander. So I could better understand and relate to his work, I'm posing as a model for his current project series, Pipistrella. It is, so to speak, a self-experimental studio visit.
Carsten Sander became famous primarily thanks to his socio-political project Heimat. Deutschland _ Deine Gesichter. But his other work is worth a look as well. In the black and white series Pipistrella, he stages women in a variety of different environments and styles. Amazingly, his work is always recognizable as his, despite its diversity. I want to find out exactly what defines this distinctiveness.
Image 1: Olga – Image 2: Victoria
Image 1: Isabelle – Image 2: Blumengiesserin
We had already met up before today's appointment. We needed to think of an idea for the picture. In Pipistrella, the impulse for a new idea is often triggered by a person or a specific place, Sander told me. "Sometimes I discover a certain type in a woman, a type that I see as being directly linked to a particular location. Or it happens the other way round, when I discover unusual places and then want to find a certain type of woman to feature in them. It's different when I know the person. In that case I like to photograph them in private, familiar surroundings, so I let myself be inspired with an idea for the picture on location, as it were. When people are in familiar surroundings, that gives me the best chance of discovering their personal truth. And that's particularly important to me in my work."
Carsten Sander and I have known each other for some time. So this shoot probably fits into the third category. But where exactly in my house should I be photographed? "I think you would look good over there in the book case." So it began. My enthusiasm was limited. Less because of the idea of having to get in a cupboard, than because of all the preparations I imagined would be necessary. We continued our tour around the house. While looking over the balustrade on the stairs down into the hall, Sander suddenly noticed the toy car, and his eyes lit up. "Just lie down on the carpet in front of the car," he told me spontaneously. No sooner said than done! He took the first test photo with his phone. Thumbs up. "The sofa over here is also good…" More test photos followed. Next the photos were forwarded to the stylist, Claudia Melzer, who put together some different outfits.
Laden with suitcases and bags, the team is at my door: besides Carsten Sander and Claudia Melzer, there's also the make-up artist, Eva Mitt. – And we get going right away. Clothes, shoes, accessories and makeup wander into the living room, the photo gear and the studio lights stay in the hall.
The next step is a brief, general discussion about the outfit. Clothes? We agree quickly to start with the little black dress and then go from there. Makeup and hair? Sander wants me to look 'like a boss', my hair 'organised wild'. My transformation begins. Meanwhile, Set 1 is already up in the background. Sander says his ideas for the picture need to grow. Too much planning destroys the atmosphere. So I go up and down stairs countless times, until eventually, thanks to my 'light and position double', Claudia, everything is ready for my entrance.
… during preparations with Eva Mittmann
The light is particularly important for Sander. "I'm a big fan of the lighting in 1920s photography. It has something mysterious, mystical – no matter what genre. Black and white photography also emphasises the dramaturgy. That's why I think I've decided to use black and white for this series," he tells me as he illuminates my double, Claudia.
It's getting serious. The shoot begins. I lie on the carpet, where the little car has just taken me, and arrange myself into the requested contortions: "bend your left leg a bit more, right arm relaxed, eyes up, head a little to the left…" Every now and then Claudia comes over to quickly adjust the dress, shift the bag or straighten a curl. Exciting! I feel a bit like Germany's Next Top Model. And it's all for art! Then at some point the decision is made: "Stop!" and we have the first look at the images on the computer screen. Sander concentrates, studying the series of images. "There's something a bit Hitchcock about it, don't you think?' he asks, laughing. We all nod in agreement. "Perhaps we should try another run with the red dress and the legs straight?" Again: no sooner said than done.
Set 2 is built. The impetus for this idea came from a carnival fur blanket that Sander has discovered in the meantime. "What about no clothes, just wrapped in the blanket…I think it would be great." "You remind me of a Danish film star. The scene is so beautifully decadent, "enthuses Claudia as she tugs at the blanket. More eager nodding all around. Finally, Set 3. So I can look more 'like a boss', Claudia is included on the spur of the moment. Sander's vision is incomplete with just me in the picture. I still need a 'subordinate'. The like a boss idea is turning into Master and Servant.

… on "Set" with Claudia Melzer and Carsten Sander
After the last picture is "in the bag" [sounds nicer than "on the memory card"], we have a bit more time to talk. What strikes me, in retrospect, is how well our image memories coincide. Whether Hitchcock, Danish film diva or Master and Servant, we were always immediately in agreement. "Do your designs deliberately play with the images in our collective memory?" I ask. "Of course, it's inevitable. After all, I myself am also shaped by that memory without being aware of it. But I also like to play with it, and to create new fairy tales by putting individual fragments together. I enjoy feeling stories in people and stimulating the imagination. Including the erotic imagination. Decadence and grandeur play a major role in the Pipistrella series," he replies. "Isn't it incredibly difficult to make a selection from the multiple images?" I want to know as we near the end. "Of course. It's always very difficult. When I take photos, I try to get right to the heart of the different facets of whoever I'm photographing. It's a search for truthful moments. I then have to search through all the images to find those moments,' Sander says. I'm very excited to see which of "my" pictures he will choose…
Elke Backes and Carsten Sander
One week later. The moment has arrived. Carsten Sander has sent me his selection. I get a strange feeling when looking at the pictures.
… chosen image for the series Pipistrella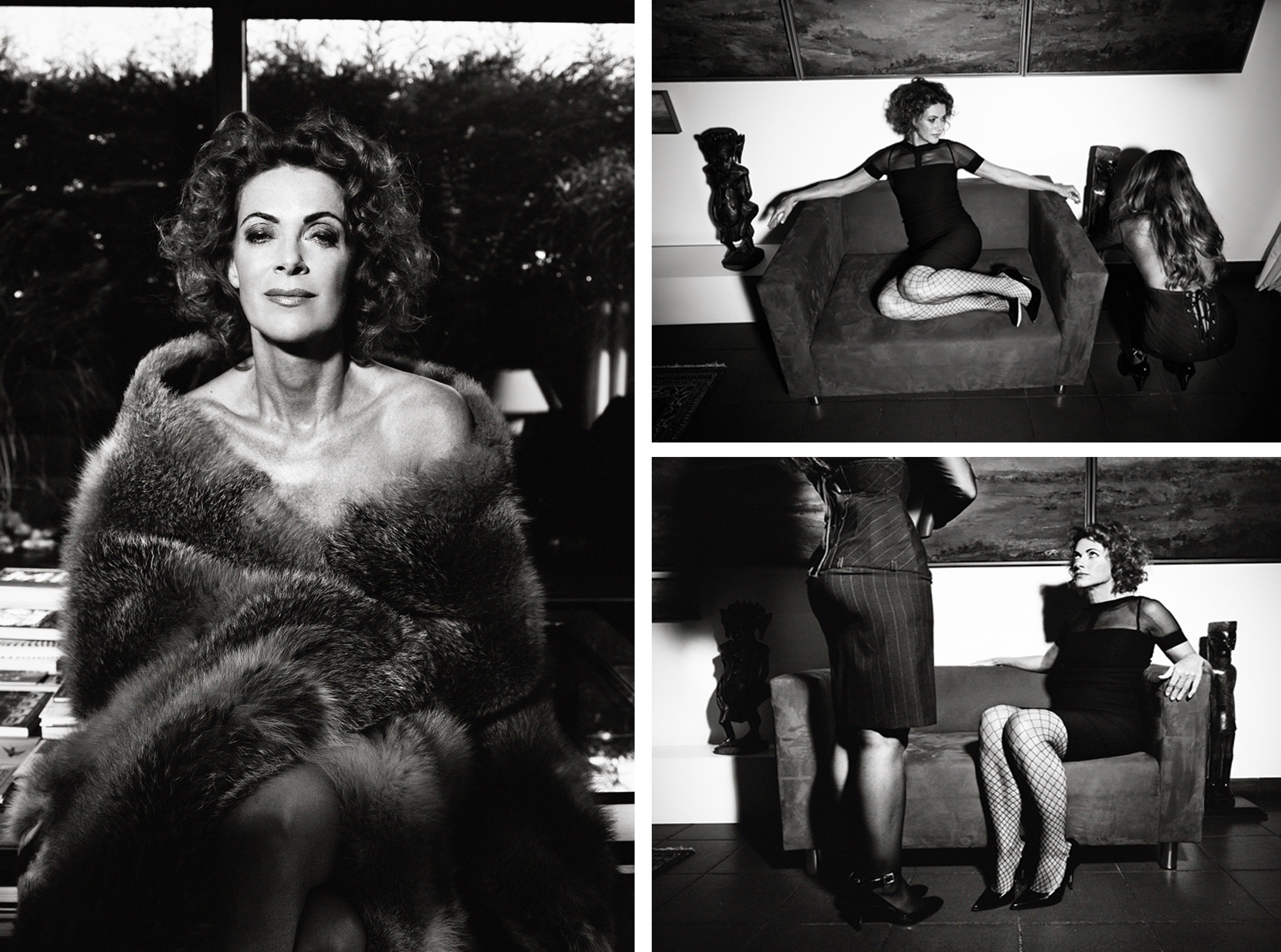 I study each one with a self-critical eye. Do I recognize myself? Is my personal truth hiding somewhere in these 'fairytale worlds'? Indeed, can truth ever be found in fairytale worlds? I am overwhelmed, and ask my friends. Astonishingly, their reactions are always the same. In response to the Hitchcock scene: "Your look. It's crazy. The car – it has a dent. Is it really broken?" In response to the Danish film star scene: "Wow, exquisite," short pause, then: "you've got nothing underneath?" In response to the Master and Servant scene, a smug, knowing look à la "I always knew it", the whole thing always unspoken but completely clear. In summary, I have to conclude that my question about personal truth remains unanswered. The observer's focus is obviously on the stories that he/she connects to the images; the question of my authenticity fades into the background. But, I ask myself, do you not need some sort of authenticity to play a role like that convincingly? It seems to have worked without me being aware of it. Strange.
Is that perhaps what Carsten Sander wanted to express when he said personal truth? Is it also perhaps what defines his distinctive style? He is obviously able to feel stories in people, or to put it another way, to feel a role in them waiting to be embodied, and he can do so based on just a look, a movement, a posture. He has the instinct for who can properly fill a role, and so perform it convincingly. And the staging and image composition? It's the scenery that casts the spell, the outfits that are coordinated with it, the knowing orchestration of light and shade that makes sure the focus is always on the model. Decadent and confident, the women dominate the scene. It's the composition of all of this that excites our imagination and transports us into the magical world of beauty.
And, hand on heart: don't we willingly let ourselves be taken there?