Düsseldorf. In the history of art, the idea of the absolute concentration on the interaction of form and colour – while refraining from any representationalism – is not new. My visit with Marlon Red shows me the fact and reason why this continues to be topical and exciting. A quick look at her paintings and drawings is enough for me to realise her passionate joy of experimenting, which is inherent in each one of her works. Her picture motifs in ever new spatial situations which she is able to design in infinite compositions of lines and colour, applied and processed on the most diverse image carriers, provide surprise upon surprise.
Examples of Marlon Red's works
However, not only the works themselves provide surprises. Her live-in studio, too, which – during the course of my visit – turns out to be a treasure chamber; as well as the biography of the Romanian master pupil of Markus Lüpertz, successively combine to form a whole.
We meet during a dull day in January. On arrival at her front door, I get a delightedly exciting welcome: "I haven't had any visitors for ages", she says, laughing. "I am nonstop immersed in my work."
That her productively appears to know no limits becomes obvious within the first few minutes.
A narrow passage leads into the kitchen. When I look around, I discover a shelf completely filled with paints and brushes next to the kitchen table, behind the table the back of a canvas, a large-format painting alongside the wall, and the usual kitchen appliances opposite. And while I am asking myself how paintings can be created in such form in such a small space, and, above that, where the completed works could be stored, I turn around to see Marlon take out, with practiced movements, another three large-format paintings, stacked one in front of the other. This is immediately followed by her moving the table into the middle of the room and a canvas being pulled out behind it, presenting me with another painting. I cannot stop being amazed. Forms and colours wherever I look. The drab kitchen has been transformed into an explosive showroom, in which the individual paintings appear to combine to form a harmonious room installation. The drab January day is forgotten. It is exactly the right place to have a coffee together and enter into conversation.
Impressions of the "citchen-studio"
Marlon: In principle, yes. I can start drawing while having breakfast and commit my ideas for paintings, which flash up at any time, to paper. Unfortunately, it is precisely this fact, which is sometimes a trap for me. The forms in the drawing develop too quickly. Canvas or fabric do not permit this. It would therefore sometimes be better for me if I had a bit of a spatial distance in order to let the idea settle a bit.
E.B.: How should I imagine you having such a picture idea? Initially, is there something concrete that then gets reduced to the simplest form, or do you imagine a picture detached from any reality in the sense of concrete art?
Marlon: I do indeed think of it in a detached manner. There are no references. This, however, has not always been like that. In order to get to that point, I had to first progress along the path of classical painting in the class of Markus Lüpertz I learned to create wild and huge paintings in the style of abstract expressionism and to enjoy experimenting with the use of the materials. But I soon realised that this style of painting was not mine. There was always something in me that made me search for entering a room in a new manner. That is how I arrived at abstraction via figuration, until finally – mainly because of the change to the class of Thomas Grünfeld – only the flat surface remained. On the whole, a long process.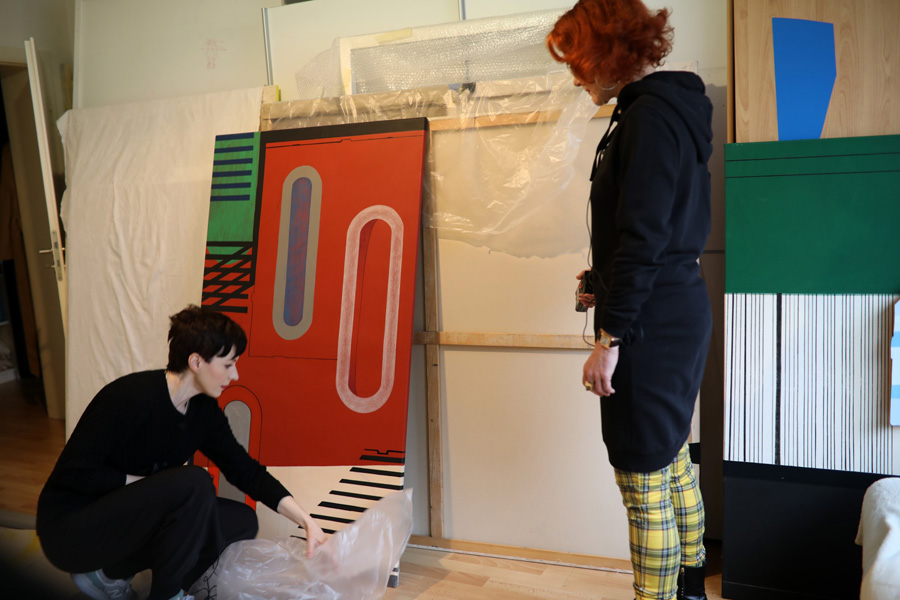 E.B.: To be able to enter a space differently in the sense of architecture?
Marlon: No. That would then again have a reference to reality. Essentially, all these – let us call them visions – already came into my head when I was small. I loved to look into strange houses or backyards. It was these different atmospheres and spatial situations, always related to a personal reality and colourfulness, that moved and inspired me. I continuously kept imagining my own spatial situations on new reality levels. To be able to enter these constructs visually I painted like mad. It was obvious to me from an early age that I wanted to become an artist.
E.B.: And this in Bistritz, a small town in Romania. That is in Transylvania. What comes to mind immediately are mystical pictures of the Dracula films. Dark forests in moon light, mist, solitude. Presumably not ideal conditions for an artistic education…?
Marlon: As far as the atmosphere is concerned, you are absolutely right. We lived surrounded by forests; wolves and deer were our neighbours [laughs]. Yet, I had good preconditions for my artistic education. My father was an excellent illustrator, my mother an architect and technical draughtswoman. I was very fortunate to have been accepted to a high school that focused on art. In addition to the usual subjects, the school taught history of art, painting, drawing and sculpturing.
E.B.: And how did you get from there to Kunstakademie Düsseldorf?
Marlon: My uncle lived in Bochum. He told me about the academy when I visited him. At that time, that was only possible with a visa valid for a maximum of three months. So, initially, I commuted between Romania and Germany and used the stays for repeated visits of the academy. In between, I visited as many museums and exhibitions as possible. When I was finally accepted, my big dream came true.
E.B.: Was the beginning not terribly difficult? Homesickness, a foreign language ….
Marlon: Indeed. At first, I felt very uprooted. When I had arrived at Cologne Main Station, I had nothing with me but one suitcase and my portfolio for paintings, which was filled with much more than my suitcase. In particular, I had no money and somehow had to call my uncle. What should I do? I took my painting utensils and started drawing portraits of people who then, luckily, bought my drawings. Thus I was able to finance a prepaid card and ask my uncle to come and collect me.
E.B.: Your story sounds just like a life for art. Also like the ability, to be flexible in a new environment and able to implement your artistic ideas anywhere. Is this the reason that you are able to think big despite the rather limiting constraints of this apartment?
Marlon: Although it would be nice to have more space, it is not necessary to have a large studio if you want to make art. And the drawings really give me an idea of what would be possible in large format, and into which I completely put my heart and soul. I meanwhile have a collection of five thousand. Besides, there is another room [she beams, building up the tension]…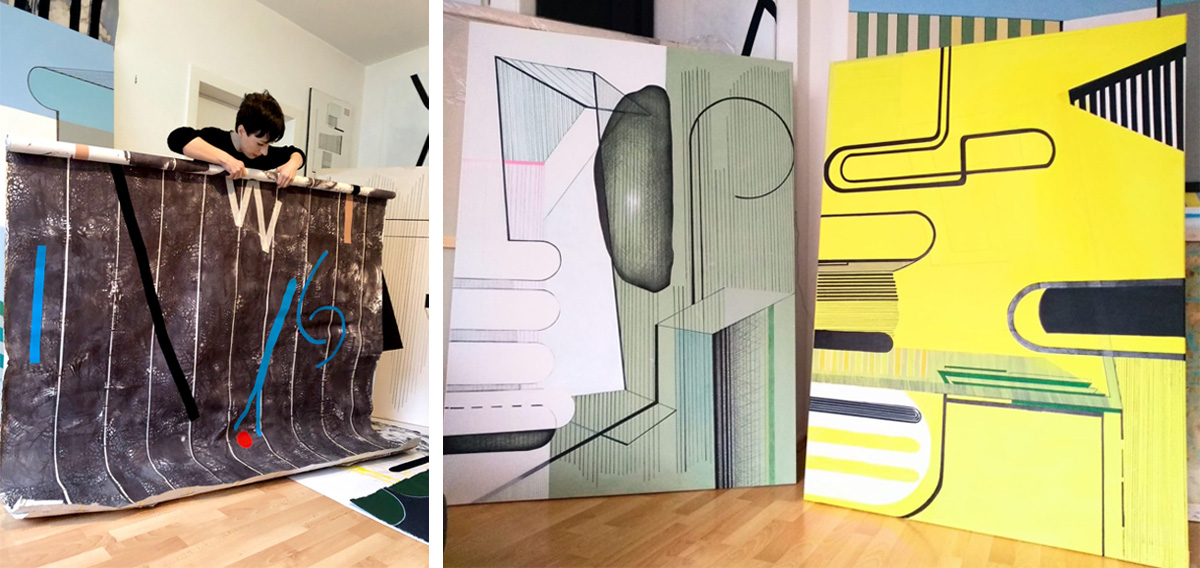 We work our way out of the kitchen and move into the adjacent room. Again a small room, which – with its art or rather because of the art – appears spacious and airy. A large-format fabric work, characterised by monochromatic paints, dominates the side wall. Two more paintings, mainly with green and yellow colour fields, form the right angle of the room and paintings lead to a width of canvas which rolls off the wall across the floor into the room. Green, yellow and black, partly amorphous, but mainly geometrical forms repeat the colour fields of the adjoining paintings and appear to make contact with each other and the room. This is demonstrated by precisely this phenomenon when Marlon spreads a flood of drawings and then also collages before me. In response to any further questions from me she again retrieves a work from a corner, explaining each idea showing the example. Unbelievable!
Marlon the spatial genius
E.B.: You are definitely a spatial genius. Not only is a work of art hidden in every corner here, but in each of the works spatial properties are evident.
Marlon: Yes, that is my central approach. There is always a force field, from which this spatiality develops. Like a sculptor, I then add something and take something away again, until my previous idea emerges physically. A wild experimentation with forms, colours and materials. Often up to 14 hours a day.
E.B.: What is it that drives you so hard? Do you want to transform the concrete art, which developed approximately one hundred years ago in a completely different historical context, into the present, or, perhaps, even continue with it?
Marlon: No. Everything has already been said about this. I simply want to be myself, I want to discover the Apavaloaei [Marlon's birth name]with her various moods, using my artistic work to let her out. But, of course, the major objective is to find a form, which nobody yet knows. Which probably, unfortunately, is like the search for the gold in the River Rhine [laughs].
In conclusion, I wonder, whether there is anything I can add. All I can say is it would be wonderful to be able to experience a solo exhibition of Marlon Red in a gigantic White-Cube-atmosphere.