The Man-Machine. Remote-controlled, or autonomous?
We're in Rotterdam. I'm here to visit the Dutch artist Jan Adriaans. Since he mainly creates with video art, the space presumably will not tell us a lot about him. The question is: will his <em>stories</em> be enough for us to understand him and his work? It's an experiment. In addition to video art, he has presented photographic works and installations in many individual and group exhibitions. Currently, Jan Adriaans is mainly focusing on video art. Later we will find out more about his motivation.
But first, the city: a charming mix of the historic and the modern makes up the image of Rotterdam. Urban and rural at the same time, I think, as I turn into the street of my destination. The studio building stands opposite an impressive Dutch Brick Expressionist church. It looks like… a functional building attached to a church? – in fact, we can read on the sign in the entrance that this is a former convent from the early 20th century.
Jan Adriaans steps out and waves at us cheerfully. Us, as I'm accompanied by Sarah Schovenberg, who has taken on responsibility for photographic documentation today. We go in together and it is exactly as I feared. The simple space is minimally furnished and… there really are no utensils to indicate that this is a creative workplace. Only the technology-laden desk suggests this is a video artist's place of work, and it would fit a communication designer just as well, I think at the same time, soberly.
Adriaans invites us to the table, where Dutch honey waffles, organic biscuits, tomatoes and freshly brewed tea are waiting for us. Four years ago, I saw his last exhibition. What has happened in the meantime? How has his work developed?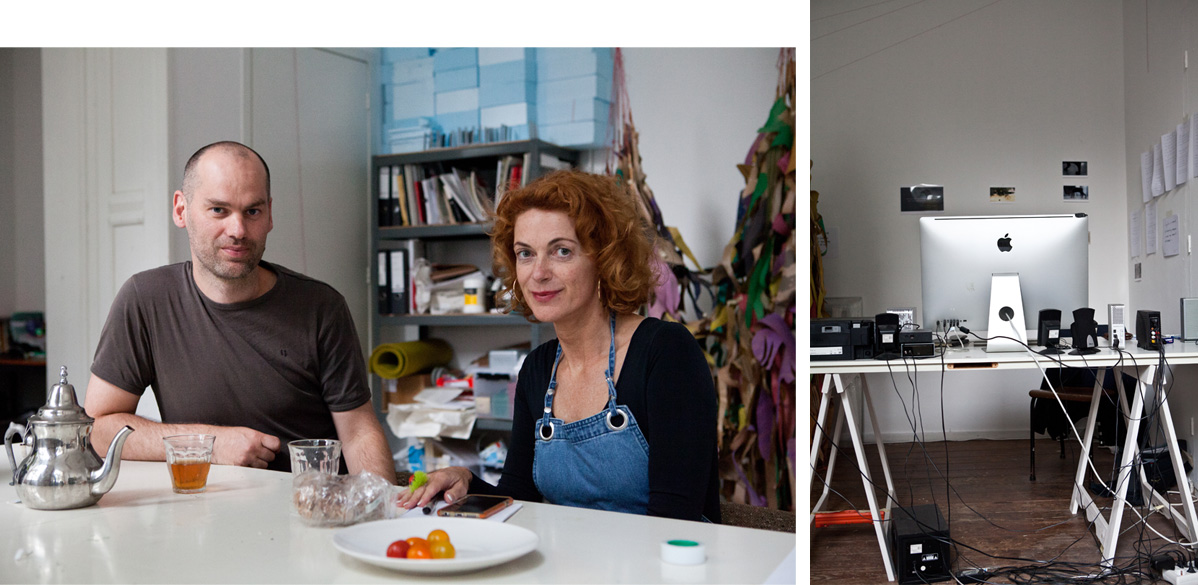 Image 1: Jan Adriaans and Elke Backes – Image 2: The working place
He is becoming increasingly fascinated with the visualisation of economic theories, he tells me with twinkling eyes right at the beginning of our conversation. Besides the many books that I noticed straight away, I now notice the mountain of paper on the table on which text can be seen, as well as the sheets on the wall, hung neatly in a row. "Which science exactly?", I wanted to know. "A combination of neuroscience [here, brain research] and philosophy," is the answer, which instantly makes me afraid. That already sounds difficult and complicated. How am I to imagine this in artistic form, and more importantly, how am I going to describe it?
Jan Adriaans laughs when he sees my shocked face, and to my relief, brings me straight out of the dark. "It's the area of study that asks: what is perception? Where does thinking take place? The examination of the phenomena of consciousness and memory. It is incredibly exciting and irritating at the same time when it becomes clear within neuroscientific studies how few of our actions are consciously controlled.
You can say everything happens as a result of biological processes, so how can we take action? And the philosophy drawing from this, exploring the nature of self, the individual. On the one hand, this means we can consider the human species as a scientific being; with its neurons, chemistry, nerve-systems. On the other we can consider the human as a noticeable being emerging in a social context and wanting to be someone. You could say that neuroscience shows philosophy the limits of subjectivity. The noticeable image we produce, the image of reasoning, through communal discussions, has to be tied to scientific images.
What do we actually know about ourselves? And most importantly – are there ways to influence the automation of our actions? These are the central questions I'm dealing with and that I'm trying to present artistically in my current project."
But how can such a complex topic be transferred to images, I wonder. "In the videos I'm presenting the biological and therefore automated interactions between human and animal, or between animals," Adriaans explains, anticipating my question. – Now there's nothing more I can image, and I'm just excited to see the two films waiting for me. But first, I would still like to know why he has decided to focus exclusively on video. "Firstly, the circumstances that filmmaking demands challenged me. Everything has to be just right when the camera is rolling. As well as that, I'm actually excited by the unforeseeable coincidences that suddenly need to be dealt with and that can sometimes give the film an unexpected twist. But the most important thing is just the opportunities that film provides as a medium that I can use to build tension. I can use them to experiment with the mechanisms of our perception, and, what I'm most interested in, experiment with them. Not to mention the ability to put sound effects in." "And how did you prepare specifically for the two new films? Is there maybe a model that you built?", I ask, looking intently around the room. Triumphant and winking, he pulls a small model off the shelf. It is an open box made of paper, and in the middle there's a round podium. On the podium there is a rooster made of plastic, and a second rooster is stood outside of the box. It is now definitely time to watch the film.
Image 1: Model for video territorial Drift – Image 2:  Set-impression in Mexiko
Expectant and sceptical, I sit down in front of the screen. The first video starts.
Fragments of: Territorial Drift, 2016
This video was shot in Mexico, where cockfights are still one of the traditional sports, and so fighting cocks are cultivated. The roosters come from one of these farms.
Video-fragments of: Stay, 2015
Adriaans set the scene for this video in an auto repair shop and also produced the sound.
End. I am upset and trying to understand why. Perhaps some brainstorming will help. During the video with Dobermann, I thought straight away: slaughterhouse, horror thriller, power, showdown… Was is the slow, zooming camera work, the cool aesthetic, the annoying sound of the obviously stressed dog, the dog's growing aggression and the voice of the 'master' from off-scene – or a combination of all of these – that captivated and upset me?
It was different with the first video. In this one, it was the colours of the plumage that fascinated me, before I was seized by a sense of oppression. I could feel the roosters' increasing restlessness. The scenes, separate but parallel, hinted that when the protagonists came together, although they were harmless at the moment, it could only end in aggression and chaos. I was just waiting for this crucial moment. But – hadn't I waited for this moment in the first video as well? I was waiting for the dog to break out, getting more and more aggressive. While I express my thoughts out loud, Adriaans listens carefully. This reaction is what he intended. What is happening here?
He is concerned with the visualisation of interactions, he has just said. What's behind this concept? First of all, it is no more than a two-way transaction. One thing happens because of another. I'm looking for a real life example, which can directly become an allegory. What circumstances could lead to my actions being influenced? It could be noises, like a loud bang, making me flinch. It could be music that 'touches' me emotionally. On a neuroscientific level, you would probably speak of reflexes or the reaction of our cells to stimuli. What stimuli are there that we react to? I think of things that our sense organs perceive, of rooms whose atmosphere has an effect on us, that can calm us or agitate us. But then I remember that it could be the moods and actions of others as well that stimulate us and could influence our actions, both positively and negatively. Just like with the animals in the videos. Voices and the atmosphere of the rooms were employed and used to provoke the dog and, ultimately, the owner in turn. For the roosters, it was mainly the confinement that provoked fear and survival instincts to make the animals combative. Perhaps that means, figuratively, that we can consciously use methods to activate predictable reflexes and stimuli in humans and animals in order to control their actions? What a scary thought.
I'm now wondering to what extent my senses, reflexes and stimuli were controlled while I was watching the videos. Isn't that the substance of films that can trigger predictable, and hence plannable, emotions in us? That means Jan Adriaans could use filmic means to provoke emotions that trigger irritation in the viewer, and then use this irritation to cause the viewer to get to grips with their reactions. Come again? On the search for the individual, he is trying to artistically answer the question of whether the automation of our actions can be influenced.
His videos show us this automation, make the human nature aware of it. Could this consciousness not also lead to us critically examining our actions and our environment and then – perhaps – taking control of our future actions? After all, that's what ultimately shapes our individuality. Wasn't this interaction the central question that he's trying to answer with his art? …