Studio photos: Karl Rogers
Cape Town. When entering the exhibition room I think, this is what the interior of Captain Nemo's Nautilus could look like in a remake of the Jules Verne-classic Twenty Thousand Leagues Under the Sea. Rising before a mysterious dark background are fantastically shaped sculptures and the furniture of the artist and designer Stanislaw Trzebinski, who is only 27. The sculptures look like fossilised marine animals and plants which were initially salvaged from the bottom of the sea, then cast in bronze and finally brought to life by the injection of LED lights and fibre optics. The shape of the feet of the magnificent dining table and the structure of the striking etched brass plates on the wall also appear to be organically grown objects.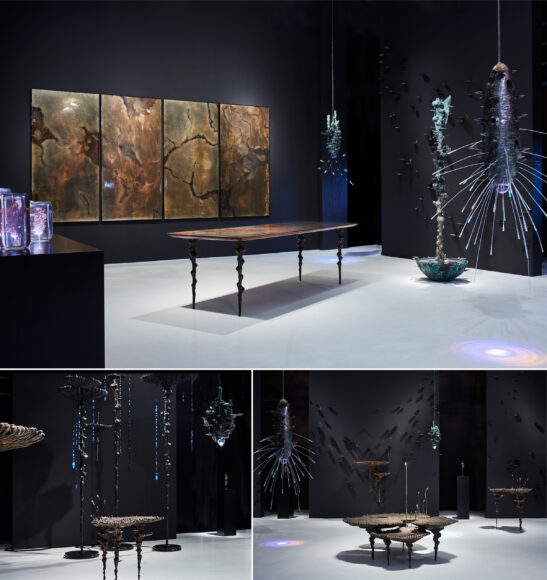 Installation views of the exhibition "In the Absence of light", Southern Guild Gallery (Photos: Hayden Philipps)
What approach does the artist take? Is it more aesthetic, rather than artistic? It is time for another studio visit to the hotspot Woodstock or, to be more precise, the Woodstock Foundry…..
The studio of Stanislaw Trzebinski in one of the renovated lofts is a generous mix of studio and showroom. While predominantly abstract works are shown in his exhibition, here, the most diverse variants of figurative representations of human forms are found. There are mystical hybrid creations evocative of mythological figures, busts taking shape in narrow layers, or human figures, which, however, appear to be grown from coral.
View into the studio/showroom
He is currently working at a surreal-looking form suspended from the ceiling. On the work benches, in addition to the equipment typical of sculpture making, are wax and plaster-of-Paris models already finished or still in preparation for casting. Amongst them a collection of small skulls…. Stanislaw follows my doubtful look at these and begins to talk.
Stanislaw: I'm not quite sure yet where I'm going to fit them in [smiles]. I'll see. At the moment I work very intuitively. That is the reason my current works are mainly abstract, which is a wonderful change. I can follow my ideas freely, there is no reference. I do not need to work following a live model or a photo as I had t do with my previous works, which are more classically inspired.
Apropos inspiration: What is the recognisable inspiration by the under water world all about?
Stanislaw: That has a simple explanation. I was born in Mombasa and grew up in Nairobi. My family escaped city life as often as possible to spend as much time as was possible in the wilderness of the Rift Valley Nature Reserve on the coast of Kenya. I learned to dive very early I become fascinated by the world under water. After high school I ended up in hectic New York, of all the places, where I started to study Sculpture at the Pratt Institute. I quickly came to realise that my creativity was closely tied up with the African people and nature and I felt out of place in New York. So I returned to Africa after a short time and moved to Cape Town, where I am now working as a self-taught sculptor.
And so you used this medium to make the relationship between man and nature a subject of discussion?
Stanislaw: Yes, exactly. For me, it is about the alienation and dissociation of man from nature, as for instance, I experienced it particularly strongly in New York. Growing up in Kenya, one feels a stronger sense of connection to the natural world because I spent so much tie in it as a child. This was greatly lacking in New York City. Although a change is visible with the great climate protection movements, I think that many people – particularly young people – are losing the ability to perceive nature as something that is essentially linked to the human existence. I illustrate this link with my work to stimulate a debate.
Which your coral sculptures clearly show. A human figure, formed from corals, which, with its typical skeleton, at the same time is reminiscent of the structure of human tendons and muscles. In addition to the form, however, it is the light green patination which emphasises the image of a coral. What part do material and colour play in your works?
"Full Coral Figure – Version 1" Collaboration with Charles Haupt, Medium: Bronze
Stanislaw: The properties of the material are of specific importance to me and therefore play a central role. Bronze is a material which, although it is durable, is also subject to a continuous process of change because of the influences of its environment. Like nature. The patination of the bronze enables me to simulate evidence of the influence of time and environment; with the use of this material I am therefore able to symbolise the process of change and transition which ultimately defines all organic substance.
Is the use of brass plates also attributed to a symbolic meaning?
Stanislaw: No. I Think that the brass also happened to be one of those instances where the material found me. There are Chemical processes that occur in etching which are, if left to their own devices – alchemical – if one can describe it that way. the unpredictable and random structures which develop on the plates through the chemical process of etching them makes for some really special stuff. Why don't we have a look in the workshop? There's a brass plate in the etching bath as we speak – It makes it easier to explain the process.
No sooner said than done! We change the venue. Once in the workshop, Stanislaw puts on the rubber gloves and takes an etched plate out of the Ferric Chloride to have a look.
Demonstration of an etched Bass Plate in the workshop
Stanislaw: I first apply my artwork onto the plate using a secret method I've developed and I then put it into this bath of etching solution. The acid only attackes the places where the brass is exposed. Once I'm satisfied with the depth of the etching, the plate gets rinsed, the coating is removed and we are now left with a plate which is the basis for a paper etching to be created, just as the classic printing process offers for an etching. I had originally applied this process for this purpose – to print ink onto paper. Some of these paper prints are hanging upstairs. But seeing the Brass plate after it had been used for the printing process I found it hard to let them go – they possessed a beauty that I could not achieve on paper – They were lustrous, I could sand and polish them, and apply patina chemicals to get a vast array of colours. That's when I had the idea to make the etched plated the artworks, and forget about the paper. The results were crazy. Structures emerged resembling sandy soil or encrustations. They gave me the idea for Fossilised Sea Bed, amongst others, which is currently on view at Southern Guild.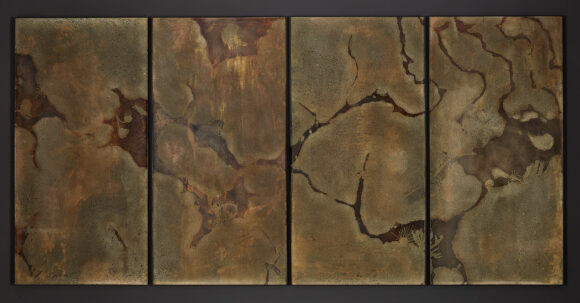 Halio Archeopetro (Fossilised Sea Bed), Etched brass, archival epoxy coating, Four panels: 200 x 100 cm each (Foto: Hayden Philipps)
A last question: How do you combine your overall more artistic expectations with the creation of your design furniture?
Stanislaw: I don't separate the two. The transition is fluid. My intention is to stimulate emotions. This may happen when looking at a Sculptural table I designed just as much as when looking at a figurative bronze sculpture.
left: Dining Table in  Stanislaw's grandmother's house in Nairobi, right: Triton's Table, Stained kiaat, patinated bronze, Table top 150 x 150 x 16 cm and legs 45 cm
Finally, how can my initial question, whether Stanislaw Trzebinski follows an aesthetic rather than an artistic approach be answered?
Perhaps there is no need to separate the two to also answer this question …?