f.l.t.r.: Amanda Demme, Angela Fisher, Donna Karan, Carol Beckwith, Elke Backes
Opening Event at Donna Karan to the exhibition of Carol Beckwith and Angela Fisher
New York, East-Hampton. The meeting with not just one but three impressive women takes me out of the hectic and overcrowding of Manhattan to The Hamptons, THE week-end and summer destination of numerous celebrities. Nothing but nature and tranquility!
The invitation came from none less than Donna Karan, one of the most successful fashion designers since the early 1980ies. The reason is the solo exhibition of the renown photographers Carol Beckwith and Angela Fisher at Karan's Urban Zen Foundation in New York, which she is introducing with this opening event.
The contrasting impressions between the megacity and the countryside appear to be echoed by the personalities of the protagonists. Donna Karan, the extraverted star, contrasted by the two reserved photographers.
My first personal highlight is the catering crew which obviously consists exclusively of male super models who briefly distract my attention from my actual topic and the breathtaking background of the property.
They are upstaged by the hostess, who welcomes me with a radiant smile. After I have credibly assured her that this event was the exclusive reason for my visit, she gives me a short summary of the background of her cooperation with Carol and Angela and the content of the exhibition. While she explains all this, a different side of her personality emerges
"It is a great concern of the three of us to provide an insight into a world which is closed to many people and which I experienced mainly in connection with the educational initiatives of my foundation. A world, where the community is shaped by tradition. A world in harmony with nature, not against it. This can be found mainly in Africa, where its diverse tribal traditions are gradually destroyed by the rapidly advancing globalization. Angela and Carol's photographs reflect the fascination of the ceremonies and customs which must be protected for the purpose of preserving the culture. With this exhibition, I wish to make a contribution to this."
Dark clouds, threatening rain, suddenly put an end to our conversation: "I must quickly make sure that the buffet is set up inside", she says and hurries away.
After the meal there is a change of location. In the cozy atmosphere of the neighbor's home the two photographic artists present an entertaining overview of their work which was created over a period of 40 years. Their almost missionary aim took them 300 000 miles to the most remote corners of Africa where they explored 44 of a total of 54 countries. Difficult to believe, looking at these two elegant ladies.
What they created is the largest photographic archive of African cultural history – sensitively captured moments of top aesthetic quality.
Examples of the photographies for the exhibition
Carol Beckwith and Angela Fisher wrote 200 diaries detailing their exciting research travels and published 17 multiple award-winning books and films. The exhibition in November will be the largest solo exhibition of the two artists whose works have so far been exhibited mainly in international museums.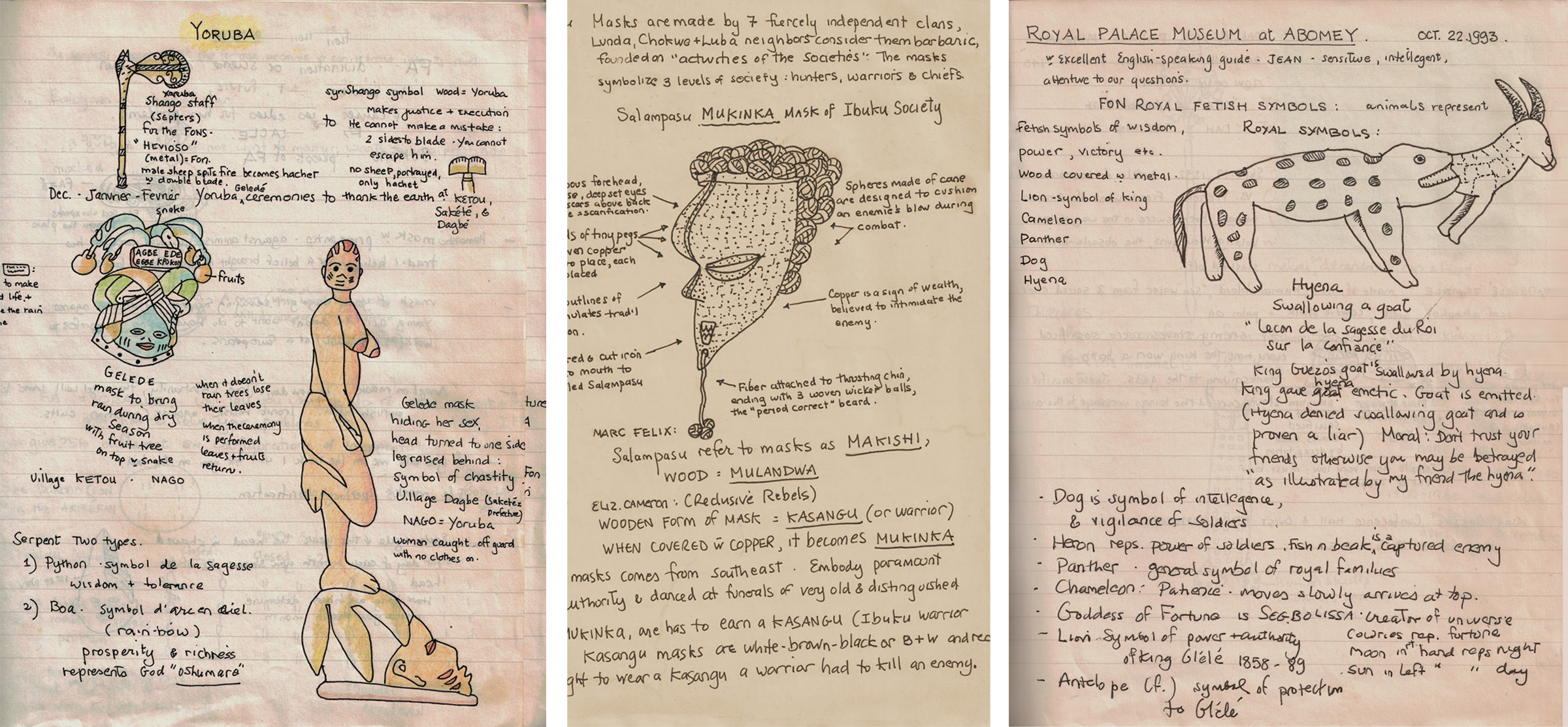 The next morning, we meet for an interview. My first question goes to Frank Schönau of the THK Gallery in Cape Town, where the work of Angela and Carol is presented.
In your opinion, how important is the cooperation with Donna Karan for the further artistic development of Angela and Carol?
Frank Schönau: It is a significant step to be able to draw further international attention to their exceptional photographic project as a whole – on the one hand on the institutional level, and on the other on the collector level. The fact that their films, books, and artefacts can be exhibited on 400 square meters of space in addition to their photographs is a wonderful opportunity to showcase their entire artistic spectrum.
Looking at the artists I notice again that they radiate an aura of sublime serenity. Have they always been like that? Or did they develop this poise on the basis of their exceptional experiences in connection with their very special travels? I decide to ask them.
Carol and Angela with their gallerist Frank Schönau (THK Gallery, Kapstadt)
Carol: The circumstances of our excursions taught us to learn patience, perseverance and flexibility. In order to reach our destinations, we often had to spend weeks riding through the desert on donkeys or camels. When we asked how far we still had to go, we were often told 'we will be there soon'. Three weeks later we were still travelling (she laughs). And all of that on a calabash of milk a day …
Angela: We can tell a story about flexibility which took place in Madagascar. While there, we received the news that, in 48 hours' time, a ceremony would start in Tanzania which takes place only every 14 years. Without hesitation, we started that night, flew to South Africa, took the next flight to Kenya, drove for 17 hours and were lucky enough to capture this more than impressive spectacle photographically.
Is it correct that already more than half of the traditional customs documented by you no longer exist?
Carol: Yes, that is true, unfortunately. Particularly because of that, it is so incredibly important to us to be able to give to the next generations a reminder of the history of their culture with our work.
Looking at the photos arouses strong feelings in me. I wonder why. Is it perhaps possible that something like a connection of art and anthropology and, through this, the origin of art and design may be understood?
Angela: Absolutely. The two of us originally come from a background of fine arts and design. Carol was a painter and I designed jewelry. Both of us immediately felt this close relationship between art and anthropology. The original peoples of Africa produce art under the aspect of ritual or spiritual beliefs and not in the way we understand art. Everything has a message. For instance, objects or jewelry reflect the status of a person or are protective objects – fetish objects which they use to ask the divine spirits or spirits of nature or the ancestors for protection, power or advice.
In view of this background, how important are the explanatory texts to the pictures in your current African Twilight books?
Carol: The texts enable people to understand the images better. We believe that such understanding is important in order for us to become aware of the similarities and connections we share with traditional peoples. We believe that this is not only of decisive importance for the future of humankind, but also for world peace.
An emphatic last word.