It is only Angelika Kammann's second collection since the founding of her label SOCIÉTÉ ANGELIQUE in 2020, but her garments already adorn covers such as ICON or FAZ Magazine and inspire customers at KaDeWe in Berlin or Gallery Gazette in Tokyo, the jury of the Berliner Salon …  and me!
Why exactly? What makes her designs so special?
I have the pleasure of accompanying her on her tour to the opening in Berlin, look over her shoulder during the fitting in her studio and the shooting of the new collection, and getting an in-depth impression of the world of fashion, especially her world of fashion. It quickly becomes clear why the word UTOPIA features in the titles of both collections.
Views of Angelika Kammann's studio.
Anyone reading about her career path, inevitably wonders what could have motivated her to become a freelancer. Already during her studies in Paris, internships led her to Jean Paul Gaultier, Antoine et Lili and Daniel Hechter, and later to van Laack in Tunisia. Her career stages are no less impressive: Strenesse Milan, Martin & Osa New York, Escada Munich, Iris von ArnimHamburg and Wunderkind by Wolfgang Joop Berlin. So why the step into the unknown?
In a car loaded to the brim with clothes and accessories, we drive to Berlin. Enough time to get to the bottom of this question as an introduction to the ultimate question about the special nature of her designs. To come straight to the point: The resounding answer to the latter is:
I want to change fashion with my collections!
E.B.: That sounds big and is probably not a new thought. What has  hindered the realization of this vision on your path so far?
Kammann: Especially in the large corporations, only commerce determines the cut. Every original idea of a design is therefore changed until an expected sales success is generated. This has increasingly frustrated me, because I simply believe that fashion must be able to do more than just follow marketing strategies. It was and is less and less about the product itself; the freedom and creativity of fashion designers are increasingly being controlled. In other words, the only opportunity to change this trend was to work as a freelancer and be responsible only to myself.
E.B.: In your opinion, what exactly does fashion have to be able to do more than just be beautiful?
Kammann: It has to return to its role of being avant-garde. A look at the history of fashion shows that clothing was not simply a reflection of social change, but rather was itself involved in change. One example is the decade of the 1960s. That was the time of the diffusion of all artistic disciplines, the mutual influence of high culture and the Underground. The legendary Andy Warhol Pop Art dresses by Yves Saint Laurent or his Mondrian dress were also created, as well as the Space Age Collection by André Courrèges.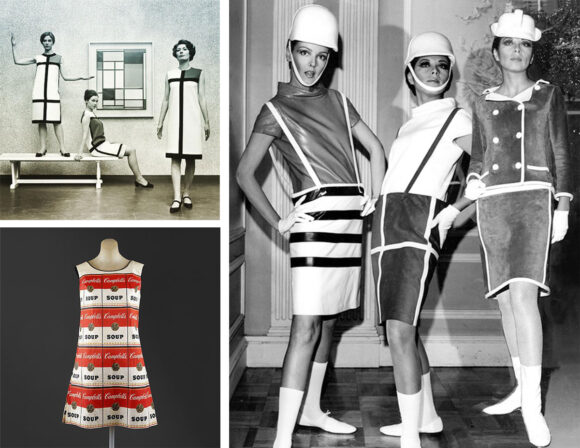 l.: Mondrian-dress Yves-Saint-Laurent (1967); b. l.: The Souper Dress, Andy Warhol x Yves-Saint-Laurent (1966); r.: Dresses from the  Space-Age-Collection von André Courrèges (1964).
This crossover of styles made it possible to express the personal and individual lifestyle through the clothes. And it is precisely this range that is missing today. It is the brands that create the style images and no longer society itself. As a result, designs are copied more and more – a process of recycling old ideas that ultimately continuously deprives the designs of their richness. They literally become flat.
E.B.: So you want to create an awareness of individuality with your fashion, but at the same time also pick up on social influences?
Kammann: Exactly.
E.B.: Wow! Now we need to get real: What form must your designs take to realise this claim?
Kammann: Above all, I want to create awareness. That's why I prefer to use the word New Consciousness rather than the trend word sustainability, although sustainability is very central to my designs. On the one hand, this applies to production, which is based on honest craftsmanship and transparency. A microchip or QR code is sewn or printed into each finished piece, so that the entire production chain, down to the last detail, is traceable to customers. On the other hand, sustainability – or New Consciousness – also means for me that I create clothes that can be worn for many years and combined again and again. My customers are welcome to use a combination of new pieces from my collection, examples of which can be seen in the lookbook.
Examples of the new lookbook REFLECTIONS ON UTOPIA, Photos: ©Rafaela Pröll.
Examples of the collection REFLECTIONS ON UTOPIA (t.r. combined with coat from the first collection), Photos: ©Rafaela Pröll.
E.B.: So much for the social aspect of generating an awareness of quality in the age of short-lived consumption. Let's get to the question of how you want to challenge your customers to be aware of their own individuality.
Kammann: It is important to me to design fashion that can be used variably in many ways. Which does justice to every mood and every occasion. That's why the parts are sometimes casual, sometimes androgynous, then again playful with flowers. My customers should be able to change and look different every time.
I think it's a great pity when someone says, 'I can't wear that. That's not me.' Often there is simply a lack of courage to change.
Examples from the TORREROS IN UTOPIA collection, photos: ©Rafaela Pröll.
Arrival at the Berliner Salon
This statement definitely does not apply to the visitors of the Berliner Salon, as we note with excitement on arrival at our destination. As part of Fashion Week, this year's group exhibition curated by Christiane Arp (editor-in-chief of Vogue Germany from 2003–2020 and co-founder of the Berliner Salon) will take place at Kraftwerk Berlin. A total of 35 German design labels from the fields of fashion, jewellery and accessories will be shown. As the staging in form of a studio shows, it is obviously about an insight into the creative design process, and therefore about the highlighting of the individual design idea.
Presentation of SOCIÉTÉ ANGELIQUE in the Berlin Salon, u.l.: Dress and coat on the model, photographed by photo ©Kuba Dabrowski for Nowadays Berlin.
While all the labels presented complement the collection pieces with their design sketches, SOCIÉTÉ ANGELIQUE also exhibits the toiles. These are those sample parts that are sewn from the specifications of the pattern makers in order to be able to see the two-dimensional design transferred into the fullness of the material.
"It was super important to me to show the enormous creative effort of my pattern cutters. I'm just the bandleader of a fantastic team of experts from a wide range of disciplines, without whom I would not be able to realize my ideas," Angelika Kammann explains her decision.
The fact that collective work was also one of the central approaches for the founding of the Berliner Salon is also clear in the conversation with Christiane Arp.
In conversation with Christiane Arp.
Arp: As part of our idea for promoting the next generation of designers from and in Germany, it was clear that this could only work successfully in a collective. We needed an exhibition venue to be able to show what we see and who is new. Here we can do the necessary lobbying for our discoveries and create a central place for networking.
E.B.: Are there fundamental characteristics that connect all the designers presented here?
Arp: The selection is increasingly taking place under the aspect of sustainability. It is very important to us that this guiding principle is reflected both in the respective design idea and in the quality of the product. Only in this way can a stand be made against fast fashion and re-establish itself as a cultural asset.
E.B.: Is there already a change within the designer landscape?
Arp: Yes. It's going to be great! [radiant smile] I haven't seen such quality for a long time.
If that's not a compliment! The concept reflects exactly those thoughts that are implemented in the TORREROS IN UTOPIA and REFLECTIONS ON UTOPIA collections. With her label SOCIÉTÉ ANGELIQUE, Angelika Kammann creates individual designs with an attention to detail that is also visible to the layman, which are processed to perfection and, using extraordinary fabrics, arrive at a fullness, that most garments of our time – incidentally also in the high-fashion sector (!) – lack. And here we have an early answer to the question of the special nature of her designs.
Initiatives such as those of the Berliner Salon also make it clear that fashion and design in Germany are once again becoming aware of their avant-garde role from times gone past. The aim of the organisers is therefore to support those designers who create products that not only reflect social change, but also participate in change, who create a new awareness as a prerequisite for social change.
Angelika Kammann's utopian-sounding vision of wanting to change fashion with her collections based on the guiding idea of New Consciousness is therefore not so utopian.
It is a trend reversal towards the avant-garde through social design.