Photos: Sarah Schovenberg
Berlin. In the district Pankow I visit the young artist Fabian Seyd. Seyd, whose work primarily comprises painting, as well as sculptures and installations, was able to book his first museum solo exhibitions in the last two years. A significant step! If an artist succeeds in the museum, this is regarded as a qualified acknowledgment of the artistic achievement. The art is "ennobled", its value increases, the career of those involved takes its course. I would like to learn more about his works, as well as more about his artistic career.
I'm supposed to drive to the petrol station, then take a U-turn to the other side of the road and then drive to the "ugliest high-rise" I see. Then I'm in the right place. Really! Truly ugly! But at least identifiable as an artist's house because of the graffiti …
Fabian Seyd meets us at the entrance and we go up in the lift together, which due to both its technical condition as well as design makes an anxious impression. "But it hasn't yet" Seyd knocks three times on the plastic of the interior lining "broken down." We arrive happily on the fourth story and enter the studio. "I've cleaned up. It looked even worse," the artist laughed. Aha, hard to imagine, I think. The thought seems to be reflected in my face. "Yes, yes. I know. For my parents it was always exhausting to visit me in the studio. It was too much chaos for them. That's why the studio is "Terra incognita" for them. But they prefer to see my pictures in an exhibition anyway" says Seyd laughing. To give you an idea: the floor and wall are littered with paint stains and paintbrushes stick to the floor. In a corner it looks like tidying up consisted of simply sweeping everything there that had been everywhere. Everywhere there are empty paint tubes, cartons, canisters, turpentine bottles …
But astonishingly, I don't see it as rubbish, but instead as a type of framework for the picture hanging centrally on the wall, which Seyd is currently painting. This painting dominates the room! A little boy with a blank expression looks at me. Wearing a white shirt and dark trousers. The shirt decorated with an oversized large fly. Hair nicely parted, sitting upright hands neatly in his lap. An almost classical motif, similar to the photographically accurate and yet typical family portraits of the Biedermeier period. The boy had no desire to be photographed. Everything looks so unnaturally forced, I think. But just like my gaze is attracted to the protagonist, the background of the picture also attracts me, which seems to be exploding similar to a surreal natural spectacle. Are the boy's thoughts being visualised here? Is he perhaps just about to explode? Because the stillness is driving him to madness? Or are parallel worlds simply being portrayed here?
I force myself to expand my radius of perception and discover the original template for the painting on the ground. Indeed! It's a historical photograph. Here, however, the background is neutral and peaceful. I compare the photo and paintings and see the changes even more clearly. "Do you always paint using image templates", I would like to know. "Yes. Always," replies Seyd, pointing to the carton at the window, which is full of photos. I also discover the template of the picture, which I had seen before in a gallery exhibition. "That's …" I just say. "Yes. I agree. This was one of the templates for the Goya exhibition. I experimented a bit here and the photo was image-processed and then reassembled," he tells me. It is another classic family portrait.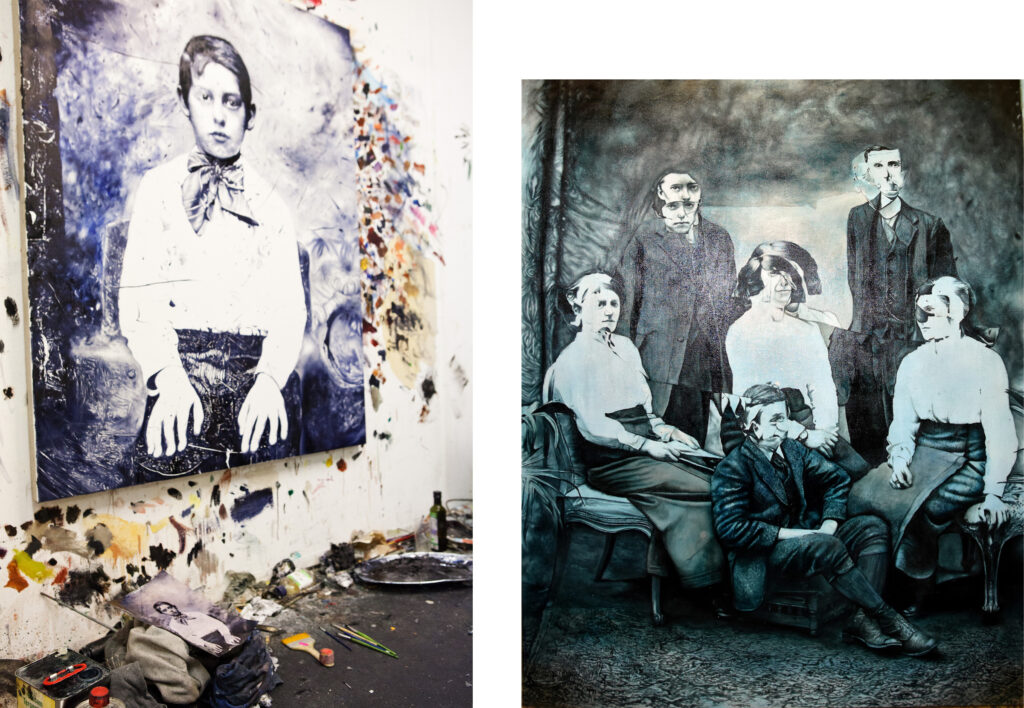 Image 1: Portrait with image template on the floor – Image 2: Painting of the exhibition Pinturas Negras – Hommage à Goya
I look again at the painting on the wall, look back at the edited picture template. "Is this a series now? The analysis with historical portrait photography," I ask. "Yes. Exactly. This is my current theme," answers Seyd. "And how do new themes emerge? Are they stipulated by galleries or museums", I continue to ask. "No. I collect image templates and items over the whole year that I notice. But the pictures are now rarely analogue, they are usually digital. In the beginning I don't yet know why I chose exactly this picture or that item. At some point I feel a contextual connection in the photo collection and begin to catalogue it. Large new thematic areas develop when I catalogue it, which ultimately lead to the next exhibition. The theme is therefore not given to me by galleries or museums," says Seyd.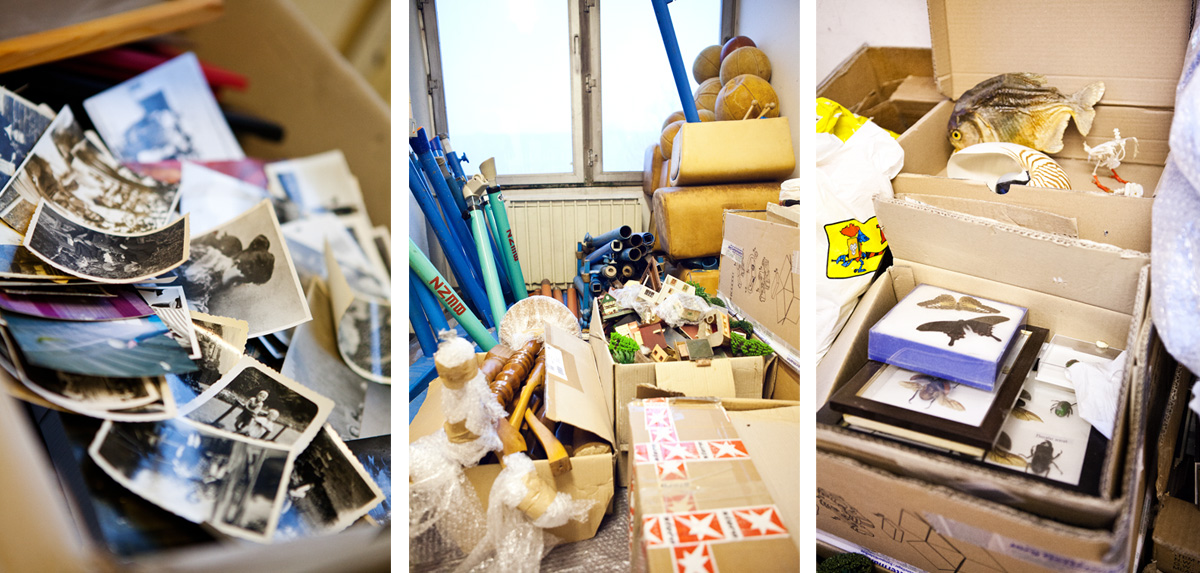 We sit down together, browse through one of his catalogues and look at pictures of his past presentations. The catalogue shows a cross-section of his works from the past ten years, though they are exclusively paintings. I notice that not only the content is varied, but also the nature of the paintings. Hardly a genre is missing. I recognise motifs form classical Renaissance painting, still life, landscape painting, American realism, Dutch painting … always objective, often abstractly intervening, always skilful painting and composed with passionate narrative enthusiasm. But at the moment I find it hard to recognise Seyd's imagery. What is he, or rather what is his art about? We look at pictures of his last museum exhibitions on the computer.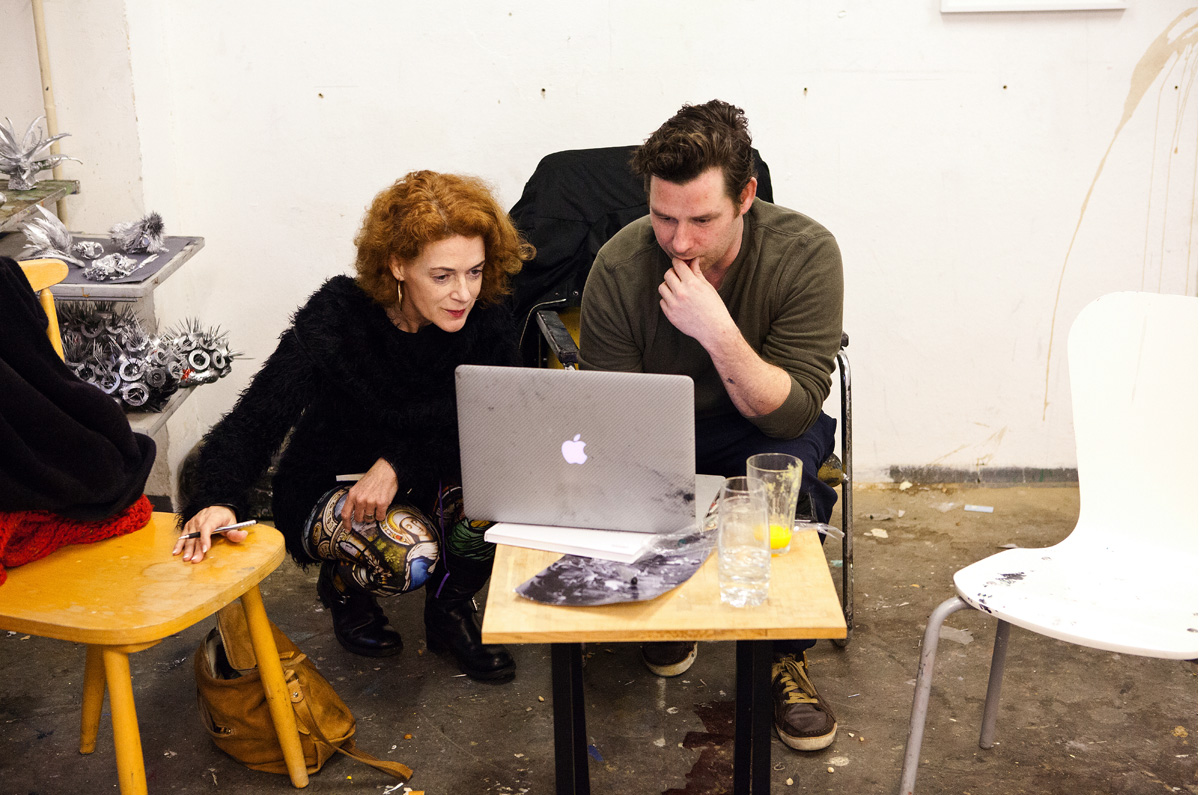 Under the title El jardin robardo/The Stolen Garden, he devoted himself to the subject of colonialism in the Wormser Museum Heylshof. It is striking that his works seem to fit into the collection as a matter of course, which mainly includes paintings from the 15th to the 19th century and are combined with art objects. Findings from expeditions are displayed in showcases or antique furniture together with paintings of Seyd. Obviously a part of the collection, or not? The artist smiles at me almost triumphantly. "It's a mix. Much of what is exhibited, including the apparent "findings", come from my junk collection or were produced by me. My children, too, contributed finding some of the pieces that we worked on in our garden after excursions into the surrounding forests, which was a lot of fun. They found it especially fantastic to see their things displayed in museum cabinets as authentic expeditions.
So back to the "faked finds". I see stuffed animals, shells, skins, plumage, African masks, that is, hunt trophies of all kinds, combined with Seyd's paintings. Or the "real" historical collection of paintings, combined with typical porcelain and bronze sculptures from the 19th century, but which are really produced by Fabian Seyd in the 21st century. An invented natural history-ethnological cabinet, a modern wonder chamber, whose exhibits do not distinguish between original and fake.
Examples of the El jardin robardo/The Stolen Garden exhibition in the Museum Heylshof in Worms
The exhibition "homestories" in the museum Goch again gives another picture. Here, Seyd artistically explores the broad spectrum of interpersonal relationships within a limited domestic environment. Here, too, his paintings are complemented by objects. But this time, no "fake" sculptures that appear to be part of the collection, but the three-dimensionally depicted spatial contents in the museum's exhibition space. "Is the presentations readable as an overall installation what was wanted," I would like to know now. "No. I leave this to the viewer. It is not important for me to define a particular art genre. It is important to me that, if possible, the space is also conceptually integrated into an exhibition. The paintings are commented on via the objects, support the theme of the exhibition, make the content more vivid, narrative, and more plastic," is his answer. "Both in terms of colonialism and the issue of domestic security, I play with utopian paradises which simply do not exist," he adds. Just like the apparent family idols of the photographic portraits of the Biedermeier era, I now realise. The supplementary room installations are therefore not to be interpreted simply as decoration or reconstruction à la the Heimatmuseum. It is something different.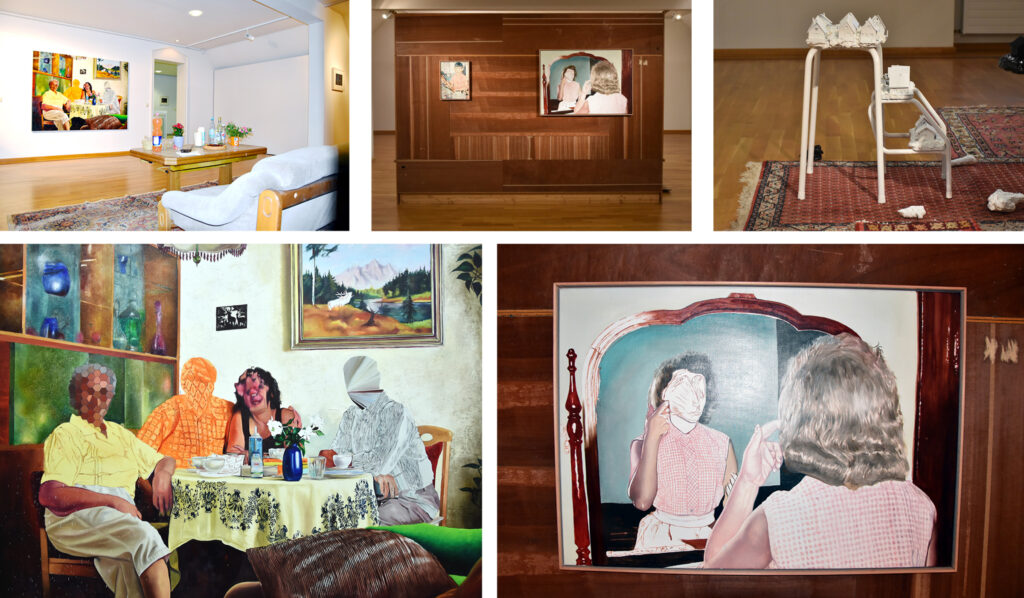 Examples of homestories exhibition in Museum Goch (photos: ©Couso Martell)
In the studio, I look more closely at his painting technique. Paintings and collages still in their early stages make these wonderfully comprehensible. He is playing and experimenting with paints and materials. This is how the applied paint evolves in the process of drying. "Forms and structures are often formed which cannot be planned. The additional application of a glaze leads to new results. When I then supplement the planned motif, new ideas are constantly being developed in this entire process, which ultimately mean that none of my images can be planned and each is a surprise," Seyd says.
I sum up: Fabian Seyd is experimenting with colours and materials, dealing with art history, dealing with social utopias … I try to sort everything out.
Let's begin with his artistic career. After completing his art history and literature studies, he decided to change to visual arts, he answers about the question of his education. This explains the confrontation with art history. "Have you also regretted your decision to switch to visual art at times," I would now like to know. "And have you always believed in yourself," I pursue. "Meanwhile it was very hard. Many hopefuls in my field threw it all away at some point and now work as taxi drivers or waiters. But I realised early on that talent is incredibly important, but isn't the only crucial thing. It is your initiative that counts. And, of course, it is also the right gallery owner noticing you at the right time. Almost all who tried without one did not make it," he told me frankly.
The "right" gallery owner is the one who not only binds the artist contractually and exhibits his works regularly in his own galleries, but also takes an intensive interest in promoting them. This ensures that contacts with museums are established, catalogues are built, and marketing strategies adapted to them are developed. "What, in your opinion, attracted the attention of your first gallery owner to your work? Was it perhaps the object, the experienced craftwork that forms such a strong antithesis to the abstract?" I try to get closer to the search for his personal language of form. "Maybe it's a bit like that. It is noticeable to me that craftsmanship is gaining ever greater recognition in art," answers Seyd. The generally recognisable retro trend is also reflected in art, I think. I thought artists always had their own claim to revolutionise art. I speak my thoughts out loud. "Nonsense. No one requires that. It is important to me to change art," is the answer that makes me think. So he simply develops art for himself, does not it necessarily seek to reinvent it?
This was perhaps the explanation for his untiring ride across the history of art. His receptions and contemporary interpretations can be described simply as a further development of art. But then is it "only" a formal or a further development of the content, I wonder. In the study of art history, however, it becomes clear that art styles always develop in the context of a particular age. Can Seyd's "crossover", his "everything is allowed" not perhaps be read as an answer to our age? Does he not even play with our time-typical way of perceiving things here?
We are used to looking at pictures quickly and classifying them quickly. If we look at the work of Fabian Seyd, we encounter familiar styles, media, and motifs. As usual, we categorise it incredibly quickly, we just want to turn around and go on, then realise in the next moment that something is different, are irritated, look more closely, perhaps look once again at the title of the works, look around the room more closely. We become curious, feel challenged. Challenged to unravel the stories Seyd tells us. We take our time. Approaching art as a contribution to deceleration?
Perhaps our Zeitgeist also requires a deceleration in the development of art. Obviously, this does not necessarily require revolution. It can also happen slowly – with an evolution of art…
More Information
Fabian Seyd actual is presented in the group show Neues zum Thema Weisswäsche in the Gallery Börgmann in Mönchengladbach. A solo show is planned there in may.