Text: Dr. Elke Backes, Photos and illustrations: Marina Kiga
The imminent premiere of XERROX Vol. 2, a ballet for the music of the same name by Alva Noto, choreographed by Richard Siegal and performed by his company BALLET OF DIFFERENCE, was also a premiere for me. The attendance of the rehearsal and the subsequent conversation with Richard Siegal challenged me to get involved in contemporary ballet. To give you a heads up: I was immediately bowled over.
I had met Richard Siegal by chance at the opening of an exhibition. Without having any idea that I was talking with one of the superstars of contemporary dance and while making the usual small talk about the things we do, we quickly discovered a common interest – interdisciplinary projects*. The exchange of business cards was promptly followed up by an invitation to Schauspiel Köln, the joint cooperation partner with Tanz Köln of the BALLET OF DIFFERENCE.
*According to the Duden dictionary, interdisciplinarity is "the use of approaches, ways of thinking or at least methods from different disciplines".
Impressions of the garden in front of the Schauspiel Köln (a.l. Richard Siegal).
Two weeks later, I am in the theatre, full of excitement, watching the events unfold. While the dancers are warming up on stage and practice their poses, there is lots going on behind me at the mixing desk: Light check, sound check and now – wind machine check. The stark stage set, consisting only of a gently undulating cloth curtain forming on oval on the stage, comes to life. Comparable to a movable sculpture, the cloth undulates almost biomorphically at different places to form gigantic bulges, flutters back and slowly comes to rest again. First wow effect.
The lights go out. Alva Noto's music starts. Second wow effect. Deep electronic sounds penetrate the body, while the video and light effects dramatize the whirling of the dancers' bodies. Third and fourth wow effect. In one word: Breath-taking!
Because we may only use official pictures from the definitive performance, but would like to record a visual impression of the rehearsals, Marina Kiga, student of Kunstakademie Düsseldorf, who also takes the photographs of this meeting, makes some sketches. While her eyes fly from the stage to her sketch pad and back, my eyes are hypnotically glued to the stage.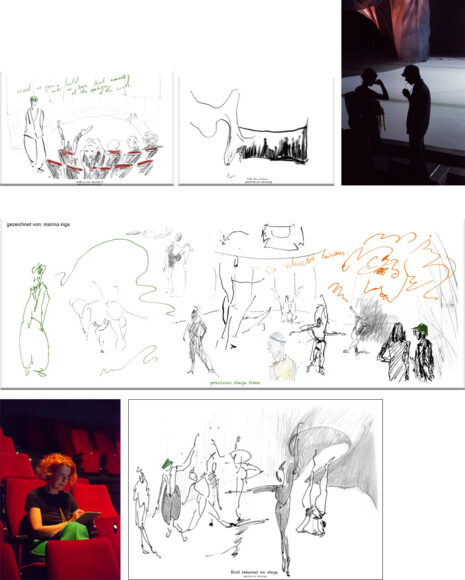 Impressions of the rehearsals, illustrations by Marina Kiga.
What happens there is difficult to put into words. The dancers' moves are almost superhuman. Grace, a host of feelings, energy and a seeming weightlessness, alone or with another, form a whole to a futuristic sound. Music, movement, light and the stage – it fluently forms a whole. Although I can discern positions of classical ballet, the formations appear completely new and alien. An attempt of possibly comprehending the whole fails. My eyes and my perception are overstrained. Is there a narrative? Does this work make a statement? I catch myself out constantly looking for interpretations and am therefore continuously tense. Finally, at some stage, I manage to engage with the spectacle and, in brain-storming fashion, jot down words coming into my head about the movements and formations of the dancers:
Attraction, rejection, forming a group, withdrawing from a group, loneliness, melting into each other, structures reminiscent of biological or chemical processes …… to give it an overarching definition: social, biological and also chemical interactions, at times apocalyptically destructive, or rising up with new energy (see trailer).
With thoughts of further meanings on my mind and still slightly confused, I then meet the choreographer, Richard Siegal. The official website of BALLET OF DIFFERENCE says, that the "interdisciplinary exploration of new form of contemporary dance" forms the centre of his work. Not an easy subject, that is clear.
In conversation with Richard Siegal.
With a laugh, Siegal challenges me by first posing a question: "Did you enjoy?"
E.B.: I am still somewhat at a loss for words, because my head is still all jumbled. Perhaps it will get easier if you start and tell me, what exactly the conceptual approach to this work was?
Siegal: To give you an overview, the larger concern when we started was very much about cultural identity in general. What drives it? How is it preserved? How does it evolve?  Who is authorized to own it?  Ballet, as a specific cultural form that rigorously encodes a cultural identity, was the vehicle by which we could perform the questions.
As the name of the company implies, we make work that interrogates "difference".  The word "ballet" in our name, however, has until now gone unexamined. It has been assumed as the thing that we, as a group, have in common, no matter our cultural backgrounds or individual experiences.  This was the piece that invited us to interrogate our own position vis à vis ballet.  So in this sense Xerrox, Vol 2 is also a ballet about ballet and, importantly, the artworks that have been created with it historically. In classical ballet culture difference is not tolerated. We, however, live in a time in which individuality is prized.
We are passing through a moment as a society, often painful, in which we are learning how to accept those with different lifestyles, values, bodies. This must coexist with ballet if the form is to advance, if it is to remain pertinent and reflect who we really are. 
To this end, we began by reducing the form to some of its most fundamental features. Ballet can be compared to a spoken language with a finite vocabulary and a syntax that governs its composition. We respected the rules enough in order to transgress them, to invite in the playful, the erotic which is transformative and life-giving, to "make it new". That is important, because the forms, which are fidelitously repeated over generations become our cultural identity, becomes what we believe in.
E.B.: For me as a spectator it is incredibly difficult to imagine that what I saw could be repeatable formations. At some stage I stopped looking for possible systems, but then perceived moods in connection with patterns of action that I am familiar with. When I compared my impressions with Marina's we discovered that we perceived completely different aspects which spoke to each of us.
Siegal:
That is the beauty of performance. Its gift is that it enchants us and incites our metaphorical thinking. We see something that invites us to enter into a state where everything that comes before us relates to us. A space of self-reflection which offers enough space for us to locate ourselves.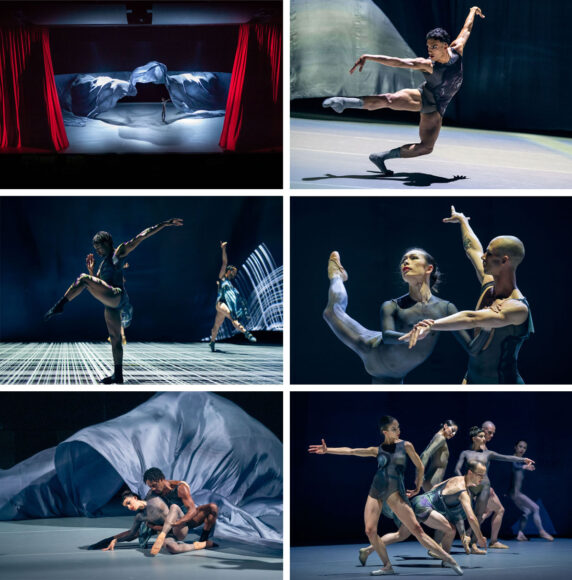 Pictures of the performance of XERROX Vol. 2 by Richard Siegal / Ballet of Difference at Schauspiel Köln, ©Thomas Schermer.
E.B.: But how can such a mood be created? Or, put differently: How do you create such complex choreography?
Siegal: It is a process, there is no prescription. What I had as a fact was the music. That was the thing that pre-existed the performance, that we all could experience and which tethered our collective fantasy from the obscure to the illuminated. To start creating a choreography is as if one would reach for something in the dark. Once you have found something and know where it is, you then start to reach for more things. Their features and relationships become known until finally the whole room arranged all its objects becomes visible.
 E.B.: How do you relate this vision to the dancers?
Siegal: Contrary to other processes in which the movement came from my body, the gestures and sequences were developed individually by the dancers based on a choreographic system I developed, like a pre-compositional device that generated content I could expand upon, pick-apart, arrange.  It felt at times like flower arrangement.
The system derives from the very restricted number of positions a dancer's hands can take with respect to the body in classical ballet. By ascribing numbers to each position, "digitizing" them in effect, I could then generate novel sequences which the dancers had to solve for.
Richard Siegal explains the meaning of the position of the hands in classical ballet.
E.B.: That sounds almost like a mathematical system. Which takes us to the topic of the interdisciplinary exploration. Who else – in addition to the dancers and yourself – was involved in the creating and staging of XERROX Vol. 2, and how did you reach agreement?
Siegal: For a start, Tobias Staab, my dramaturg and co-founder of BALLET OF DIFFERENCE. The initial conceptual underpinnings were discussed together with him before continuing the discussion both verbally and physically with the dancers. I myself designed the stage set.  Light and video were developed by Matthias Singer with whom I have cooperated for years as with Flora Miranda, the costume designer. Everyone's starting point was Alva Noto's music. Together, the ballet developed in a constant work flow with each one contributing ideas from their respective discipline.  We experimented and discussed the results until eventually everything looked and felt right. We are a well-established team.
E.B.: The costumes are extremely delicate and very transparent. What were your specifications to Flora Miranda?
Siegal: Flora knew only the music when she started with her concept. When I told her of my ideas for the choreography, it quickly became clear that it would be very important in this work that the shape, line and contours of the body would be clearly visible. In other evenings we have made, Flora has at times used a sculptural approach, costumes that alter the silhouette of the body or encumber it.
E.B.: A final question, before we jointly storm the stage for the cover shooting: What do you prefer, dancing or choreography?
Siegal: I love dancing. And I love choreographing. But they are apples and oranges.
Covershooting mit Richard Siegal.
You fancy ballet and want to see it live? You find the repertoire of the BALLET OF DIFFERENCE in the additional links. It's well worth it!